It's crept up so fast again.  It's Christmas time. I ADORE Christmas.
Naturally, as the year comes to a close (and New Year resolutions/challenges crowd my head at 3am), I find myself being thankful for all the blessings in our lives over the past year.  The list is long and quite personal, but I thought (here) I'd focus a big part of my thanks on TEAM JONETSU 2012.  I always feel like we give everything we have to our shoots and our clients, and though it would make sense that Chadwick and I are the ones to work the hardest, we have to say that our amazing assistants are such a key part of our wedding days and our couple's experiences: they work as hard as we do.  They help us focus on the important bits of a wedding day, and are such talented, truly GOOD people.  We feel honoured to have the opportunity to work with such fantastic souls.  Thank you Gabi, Mark and Matt.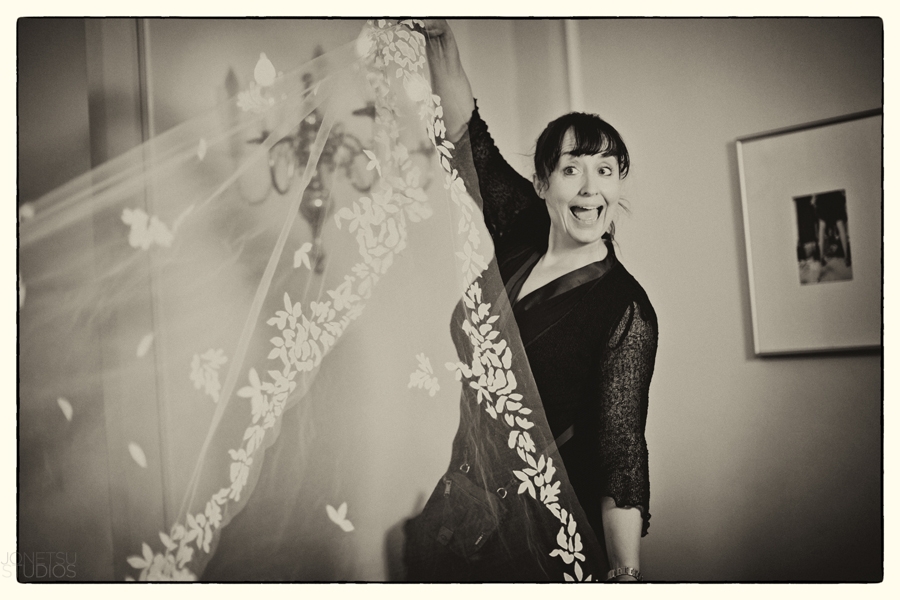 Gabi contacted us last year, she's already a wonderful Whistler Family Photographer, but she wished to explore wedding land with JONETSU this season.  Full of life with an authentic, honest edge that makes you love her even more, Gabi has always thought one step ahead and has helped us out with some very solid ideas : one wedding, she perfectly navigated a very critical situation where our car was blocked in the parking lot (on the way from wedding portraits to wedding CEREMONY).  German ingenuity, we call it.
A great friend, Gabi helped us with location scouting in Whistler for one of our favourite shoots of the year: Jon and Di's engagement session.  She's incredibly gifted with children, and it's genuine- kids can smell the fakes from a kilometer away.  We love you Gabi, and we look forward to working with you next year, when you have the time for us 🙂  Thank you for being so helpful, and thoughtful and supportive.
(pictured: Gabi finessing Julie's spectacular veil at the Vancouver Club)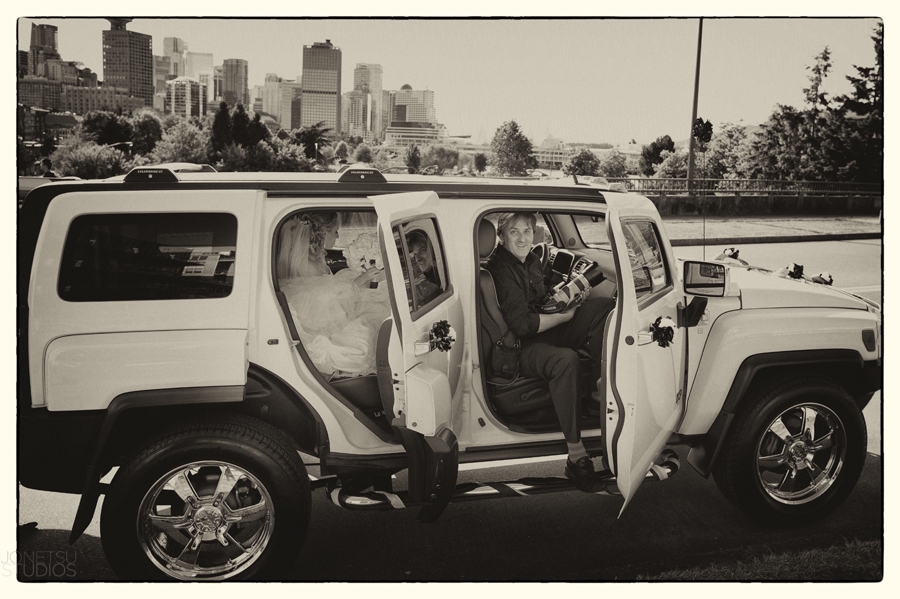 It was such a pleasure to get a note from an acquaintance from so long ago – from my times in Japan, no less!   Mark is a photographer and teacher in the UK and is such a wildly, delightful diplomat (he's not actually a diplomat.  but could be… he'd represent the Queen Mum with much aplomb).    You know those people that make you think critically and question everything you know (like you're back in Uni!)?  That's Mark, with a big smile and a cheeky joke attached every time.
Chadwick and I were asked (and felt honoured) to judge this huge  Russian wedding photography competition this year.  Incredible work, inspiring, so time-consuming. To judge a colleague's work is awkward, it's quite stressful.  We decided to feel confident that we were actually chosen to judge because of our biases an so, from which other perspective were we to judge this talented group of photographers?  Mark was able to sit in on a portion of our judging, and offered some absolutely intriguing perspectives that I carry with me today. I'd love to attend one of his classes- he teaches English and lectures on photography at Manchester University- lucky students!   Thanks, Mark.   Your spirit is contageous and you gave us more than we gave you.  You're hilarious and truly kind.  Looking forward to seeing you again in the UK!
(Pictured: Mark couldn't believe he was stepping out of a Hummer in Vancouver.  With Canon gear, at that!)
Matt Day: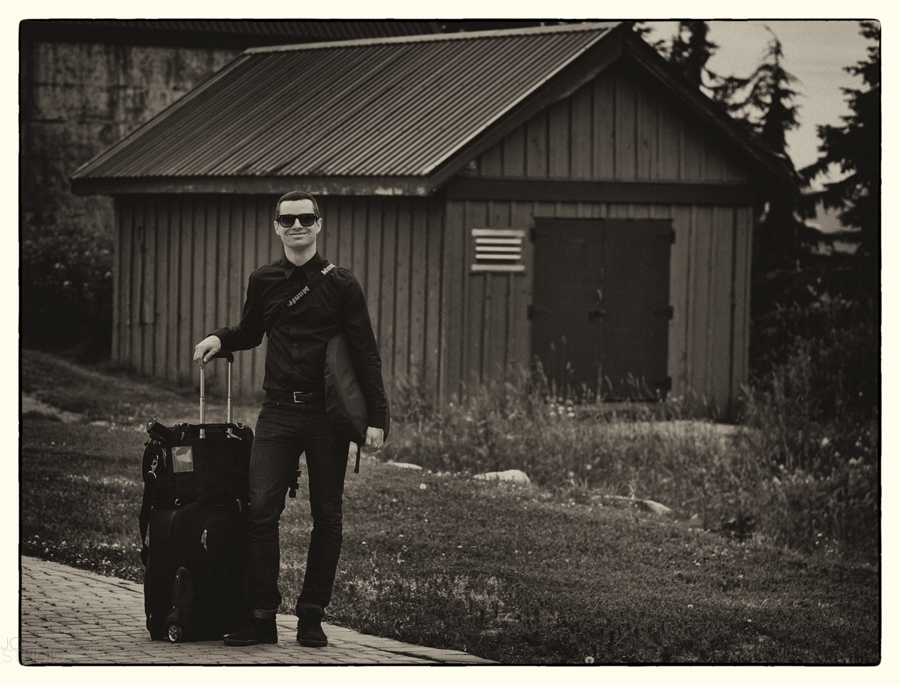 Matt and I go way back, he used to assist me before Chadwick times!!  It was so great to get his email that he'd be up to helping us out for Sarah and Riley's wedding after I posted the opening online. Matt's become a fantastic photographer and is a passionate about music. Matt, I really have enjoyed your self-portrait work and look forward to seeing all the fun you get up to in the coming years… you've always been such an open and kind person- good things will always come your way!  Thank you for being in touch, that made me so happy and you were great to work with again!  Love and hugs to you and your family too!
(Pictured: loving the look here- Matt lookin' tight in all blacks with every bit of gear on his person (minus the four cameras we carry).  oh Matt- we have your shades at the studio- forgot to mention!
Some shots of us this year… Yes, I wear the same outfit every wedding.  I have four copies, it's a no-brainer.
To my husband.  I don't want to say everything here that I'm going to write in your Christmas card, but I will say that this has been a crazy year and I wouldn't have wanted to share every bit of it with anyone else.  You are my ultimate support in life and your talent blows me away.  Love you so much boo.














The Year End was capped off with a super awesome surprise for team JONETSU at the BC Wedding Industry Awards 2012 where we won the"Best Overall Wedding Photography" award!  We tried to drag Gabi up to the stage to accept our crystal bling at the River Rock with us but she refused to go – too shy, Ms. Gabi, too shy!!  There will be professional images surfacing at some point, along with our winning entry published in Real Weddings Magazine, but for now, here's our little iPhone pic at the end of the night, back at the studio.  Thanks to Nadia Albano who did my hair and makeup for the event, and to our friends Leanne, Melia, Jules, Gabi, Jenna and Tristan who joined us for great times at a little pre-awards dinner/drinks at WEST that night.  Congratulations to all the winners and runners up, and to the organizers for making it another wonderful night to remember!
Looking a little rough… but there we are:


To our clients from 2012 and years past,
We love you and we so appreciate your support and kindness over the years.  It makes us very happy to be able to make images for you and your families that you enjoy and keep visible in your lives.  Thank you for being the incredibly interesting and caring people you all are- every single one of you!
Happy holidays to all of you and to your families.  May 2013 be another beautiful year for each of you!
Love, Camille & Chadwick