Chadwick and Camille Bensler have been happily married since 2003.  They live in a 1970's post and beam home that is slowly becoming their paradise, with plenty of work (and plenty of wine).  They have two sweet whippets, NiNi and Mya who (when invited) love to make appearances as studio mascots.
The bright and airy JONETSU STUDIOS loft is located in Vancouver's Mount Pleasant area and welcomes you with an appointment for fun!
Together, Camille and Chadwick deeply enjoy capturing genuine emotion and spectacular points of view for each of their clients.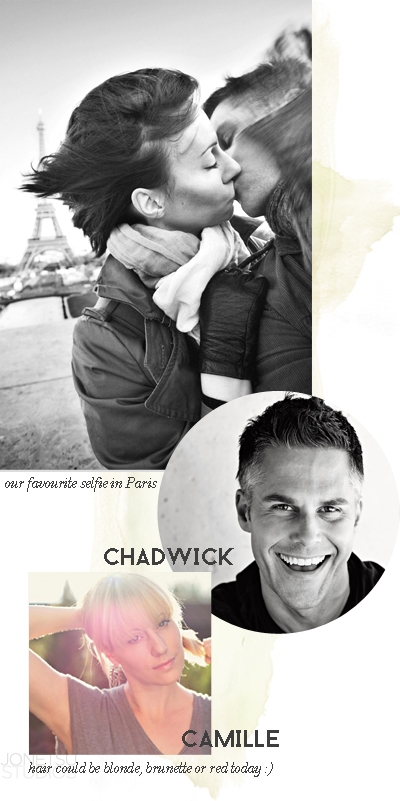 Renowned for their finished artwork in the form of custom wedding albums and Camille's signature 'Dreamscapes', all post-production and design work is handled in-house by the couple personally.  Due to this hands-on commitment to quality and creativity, a personal connection with their clients is very important to them.
Celebrating 15 years in business, the Benslers are humbled to have received numerous accolades that point to their dedication to stand-out imagery and exemplary customer service:
-Camille and Chadwick are Canada's only wedding/portrait photographers to be honoured with Canon's 'Northern Explorers of Light" Ambassadorship and Educational Initiative.
-American PHOTO Magazine recognized Chadwick and Camille as "One of the Top Ten Photographers in the World"
-At the Professional BC Wedding Awards Gala, JONETSU received the award for "Best Overall Wedding Photographers" for the last two years (2012, 2013)
Over the last couple of years, they've enjoyed presenting talks and educating photographers across North America. In 2012 they first presented a platform at The Canada Photo Convention, then spoke again in 2014. They were keynotes for Canon's cross-Canada tour "Frame to Finish" Vancouver, Calgary and Toronto in 2013 and presented a platform and hands-on seminar at Mystic Seminars in Connecticut in 2014.  In 2015, they will offer their first three day workshop intensive for photographers with 3+ years experience in Vancouver and Whistler.
JONETSU's work has appeared in print publications consecutively since 2002 (Wedluxe, Real Weddings, NY Times, Canadian House and Home, Perfect Weddings, Weddingbells, Vancouver Sun and Vancouver Province).
If you have enjoyed the images you've seen, Camille and Chadwick would love to meet you personally at their studio to get to know you better.  If you are not in Vancouver, they are happy to set up a Skype meeting to suit your schedule.
Complete wedding collections begin at $8800, and family commissions (based on availability) begin at $1000.
In summer 2014, a new JONETSU Website will be launched.
info@jonetsuphotography.com
604-817-1440
NiNi and Mya Whippets: