Busy times in Jonetsu Land. The last of our weddings from this year has been photographed and delivered until we begin again in February, albums are in full production, holiday cards are getting some serious design love and our clients' babies are entering the world left, right and centre!  What an exciting time!  Starting later this month, we'll begin the slow, steady leak of blog bits we've intended to share all summer 🙂
To start, we wanted to share the album wardrobe/location styling, photography and design we did for The Wiebe's new album "Restore the Wonder".  As some of you already know, Angela & Shane are dear family (Angela is Chadwick's sister) and they (along with our sweet niece and nephew) mean THE WORLD to us… don't get me started- I need to see through the rest of this post!  Last week in Calgary, "Restore the Wonder" picked up a very special award: the 2010 Covenant Award (GMA Canada) for the "Inspirational Album of the Year".  Congratulations guys!!
And ATTN: BRIDES- are you looking for a unique and spectacular, heartfelt song for your Father and Daughter dance?  Well, this album has it: it's called "My Princess" written by Shane for his daughter Joelle.  Well, I can tell you that song had me balling immediately.  It's so genuine and moving (the live studio version is my fave– a bit raw and so very tear-inducing.  So many fantastic songs on this album).   What can I say, I think it's perfect.
Here is a selection of spreads from the album:
Cover (right) and back insert page: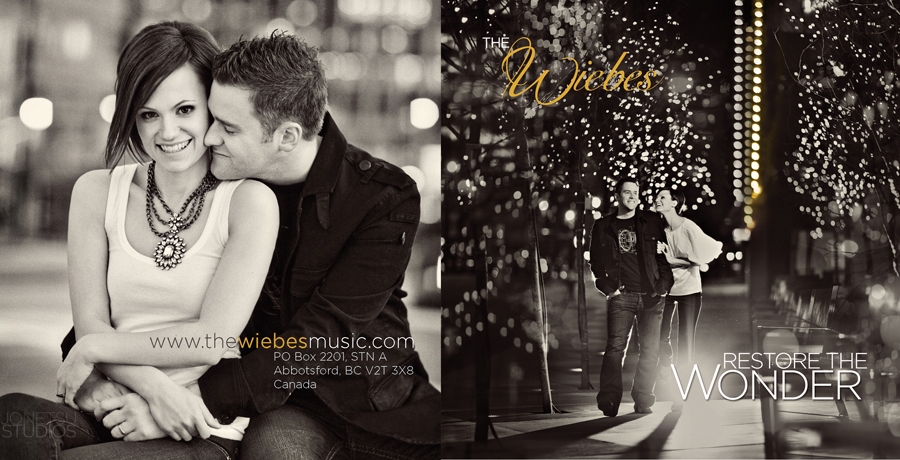 My favourite spread, shot in the studio: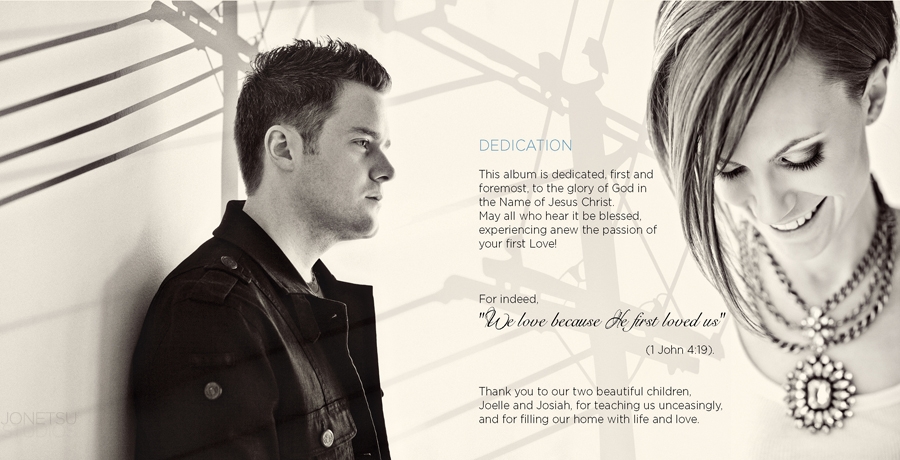 these two are magic together: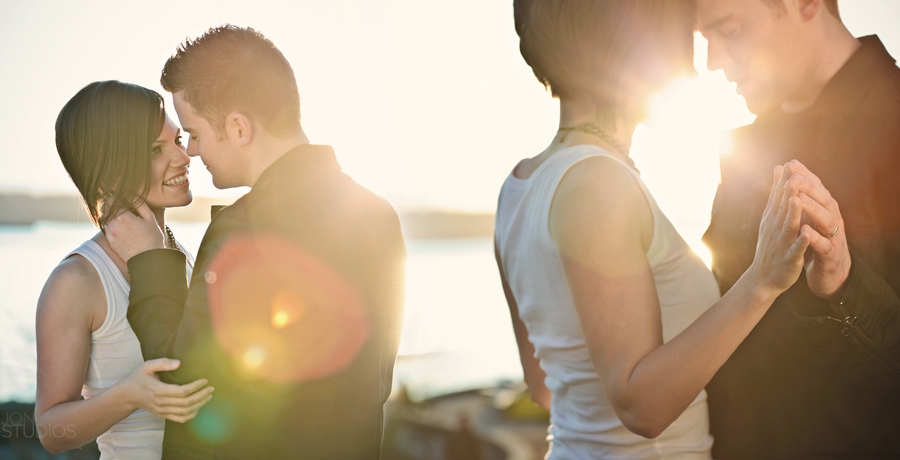 some romantic night shooting


I really liked the ethereal feel of this back cover:


A special shout out to Father's Daughter who picked up the "Southern Gospel Album of the Year" award at the Covenant Awards for their album "I'll Follow You" (see their album design here. )  Huge congrats to the four of you and hello to the whole family!!
A dear client/new friend of ours suggested that even the odd singular image showing up on the blog could satiate her lol, so here's a tiny slice of wedding love: Trish and James feel the warmth inside their classic car. It doesn't matter that it's pouring and cold out- they have each other, baby.  I feel like this image could be from any era- what do you think?


Oh yah, and check out the newest issues of Real Weddings Magazine and Perfect Weddings magazine for Jonetsu wedding and engagement spreads.  Much love, Camille