JONETSU FAQs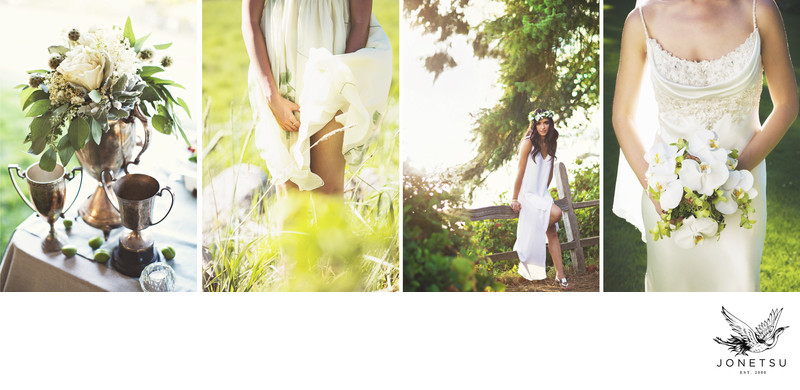 Who will photograph our wedding?
Both Camille and Chadwick will photograph your wedding, and will likely have an assistant with them to help with gear and lighting.
Additional photographer(s) can be arranged if your commission requires.
What is your Vancouver wedding photography pricing?
Please contact us with your date/location and information about what is important to you on your wedding day. We customize each commission for our couples, and offer design consultations after the image collections are revealed.
Once we learn more about you and your wedding, we can create an incredible album and artwork combination for your specific needs/aesthetic.
All wedding collections and pre-wedding/engagement collections include albums.
Call us at 604-817-1440 or email info@jonetsuphotography.com for availability and starting rates.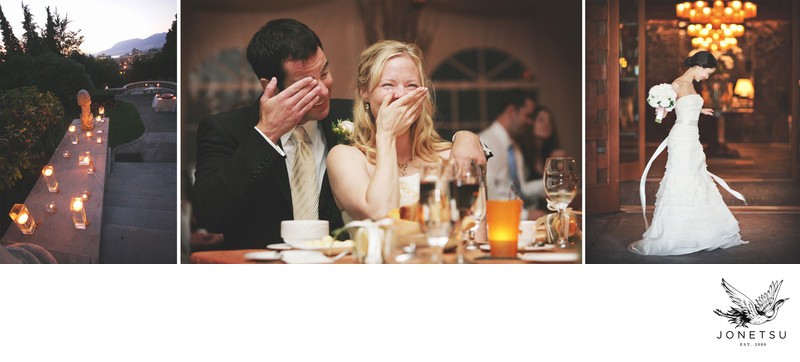 What does 'Jonetsu" mean?

Jonetsu means 'passion for life' or 'love fever' in Japanese. Camille studied in Japan (Osaka) on a Rotary Cultural Ambassadorial Scholarship back in university and came away with a business name, a love for mochi, ramen and countless other Japanophile interests.
How do we book you?
It is important for us to establish a rapport with each of our couples. We want to get to know you! Please contact us with your date and information and we'll set up either an in-person consultation in our Vancouver photography studio or a skype session with you both if you're out of town/country.
Booking requires a 50% retainer and signed contract. Unfortunately, we're unable to hold dates without both of those.
Currently, we are booking 2016 and 2017 dates.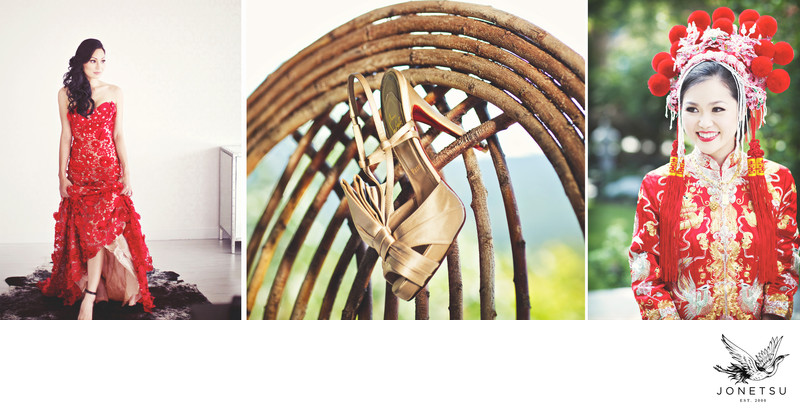 Do you offer destination wedding photography or travel elopement photography?

Our specialty is offering the best Vancouver wedding photography possible - having gained experience over the years about the locations and nuances that make Vancouver and British Columbia so incredible. We never tire of the natural beauty and experiences our Province offers!
That said, we love to do a few weddings out of town each year- large or intimate. We enjoy shooting all over Canada, and welcome the opportunity in 2016 to shoot weddings specifically in Germany, Japan, or the South Pacific. If you have a story that connects you to a special place, we'd love to hear about it.
Tell us about your destination dreams and we will work together to capture them. We include day after sessions in all destination commissions, to truly allow for the creation of additional impactful portraits without wedding time/location constraints (also available to add onto your Vancouver wedding photography commissions, Whistler weddings or Gulf Island/Vancouver Island weddings).
Our privacy is very important to us. Can we own all the images?
We are very familiar with non-disclosure agreements and special image use arrangements. Copyright however, is retained. We can arrange special image ownership services as part of your commission for an additional fee.
All of our commissions include high resolution files (without watermarks) along with your wedding album for your personal printing needs and safekeeping.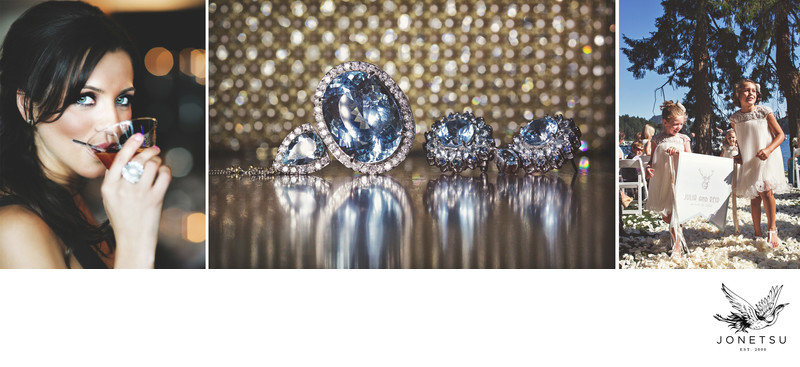 Do you offer Pre-Wedding photography?
Yes. Similar to engagement photography, we can help to create a wonderful photographic experience that will resonate for years to come- before your wedding day. Many of our couples come in from out of town to adventure around Vancouver and BC for their pre-wedding photography.
We can help to arrange makeup, hair, styling, transportation and accommodation. Camille has a background in event and adventure planning for international clientele and can consult with you on your wishes once we've secured your shoot date.
All customized pre-wedding collections include albums.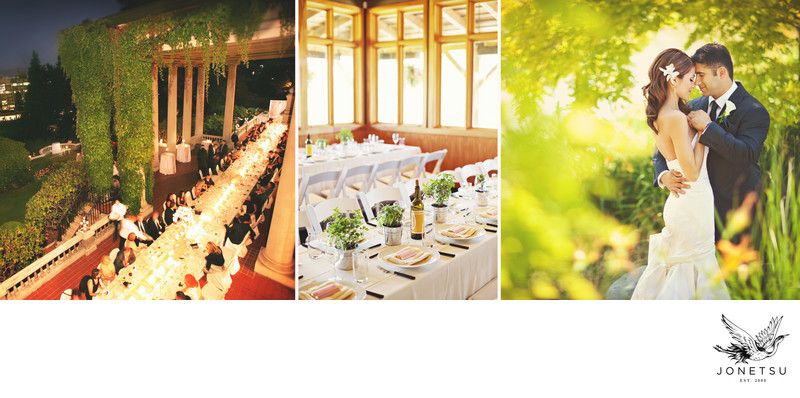 Do you shoot details and posed family photos?
Yes. We offer very comprehensive coverage of your day and love capturing all of the details you have put together to express your personal style! We are regularly featured in top magazines and blogs that showcase all of the gorgeous things that make up a wedding day!
We have a great time doing family photographs and insist they are done with a list and a positive attitude! We'll help you arrange for them and make them a part of the day you actually enjoy. Organization and fun are key here.
What we enjoy capturing most is you and your guests genuinely interacting during the wedding and the way you move through your day together (the human element attached to those details, let's say).
Creative portrait time can be filled with relaxed moments or dramatic expressions of style & environment- it really depends on what we determine is a fit for your personalities.
All of the images you see on our site are from real weddings and portrait sessions that we've been commissioned to photograph.Editorial shoots are available for viewing in studio.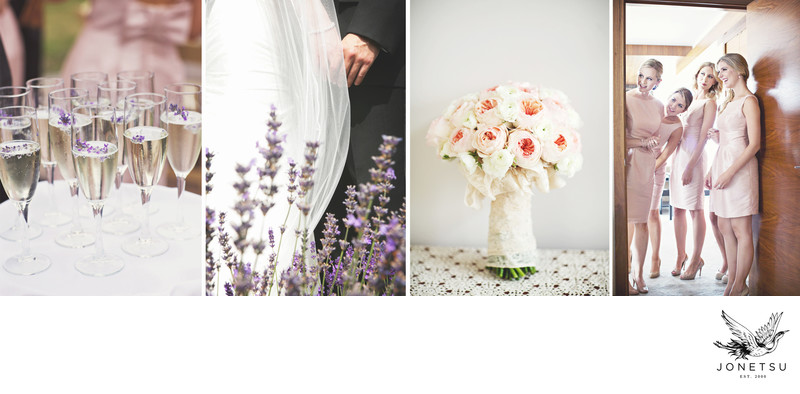 How soon can we see our photographs?

Within a few days of your wedding, we'll release a teaser of images. Then, the Big Edit happens which takes up to 90 days depending on the the scale of your wedding and the time of year. Our biggest pleasure is to have you back to the studio for wine and cheese to see your images large for the first time, with music to support the mood of your big day.
We complete post-production and album & artwork design in-house, personally.
Rush services are available if you need your images for a particular event or for timely editorial considerations.
What kind of gear do you use?
We shoot with Canon cameras and lenses. Our favourite wedding cameras are our 5D MarkIII's.The 600 series Canon Speedlights and L series lenses round our kits.
We carry several flash modifiers, reflectors and additional lighting to achieve exactly what's in our minds' eye regardless of lighting or weather conditions.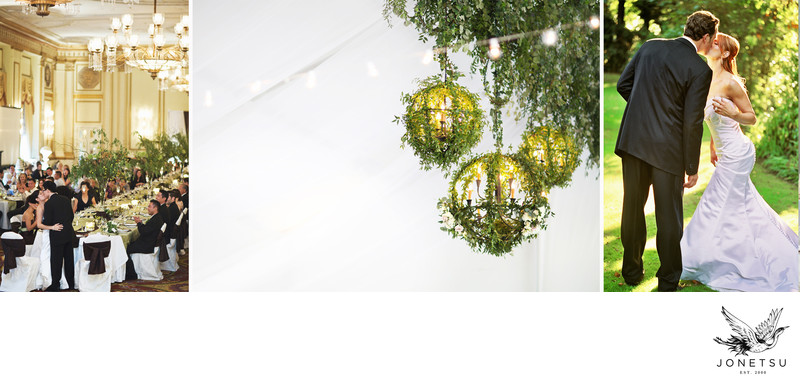 Do you offer wedding video/cinematography?
We do not. We specialize in photography and can recommend a video team that suits your style once we have a chance to meet.
Where can I see examples of full weddings you've photographed?
In our studio, we have samples of full wedding stories we've captured for our couples. Samplings can also be found on our blog. We deliver 600-1200+ images per wedding based on its size and duration. Our comprehensive, quality coverage and experience photographing weddings for over 15 years ensures you leave with an image collection that truly wows!
I'm a photographer. Do you hold workshops or one-on-one mentorships?
At this time, we are not offering any private workshops or mentorships but we will continue to speak/educate publicly at multiple conferences throughout the year. Please be in touch with any questions or to receive notification of new workshop opportunities (we may plan one for 2016 in Vancouver at the studio). For a list of up-to-date speaking engagements, please click on the "AWARDS | PRESS" tab in the main menu.